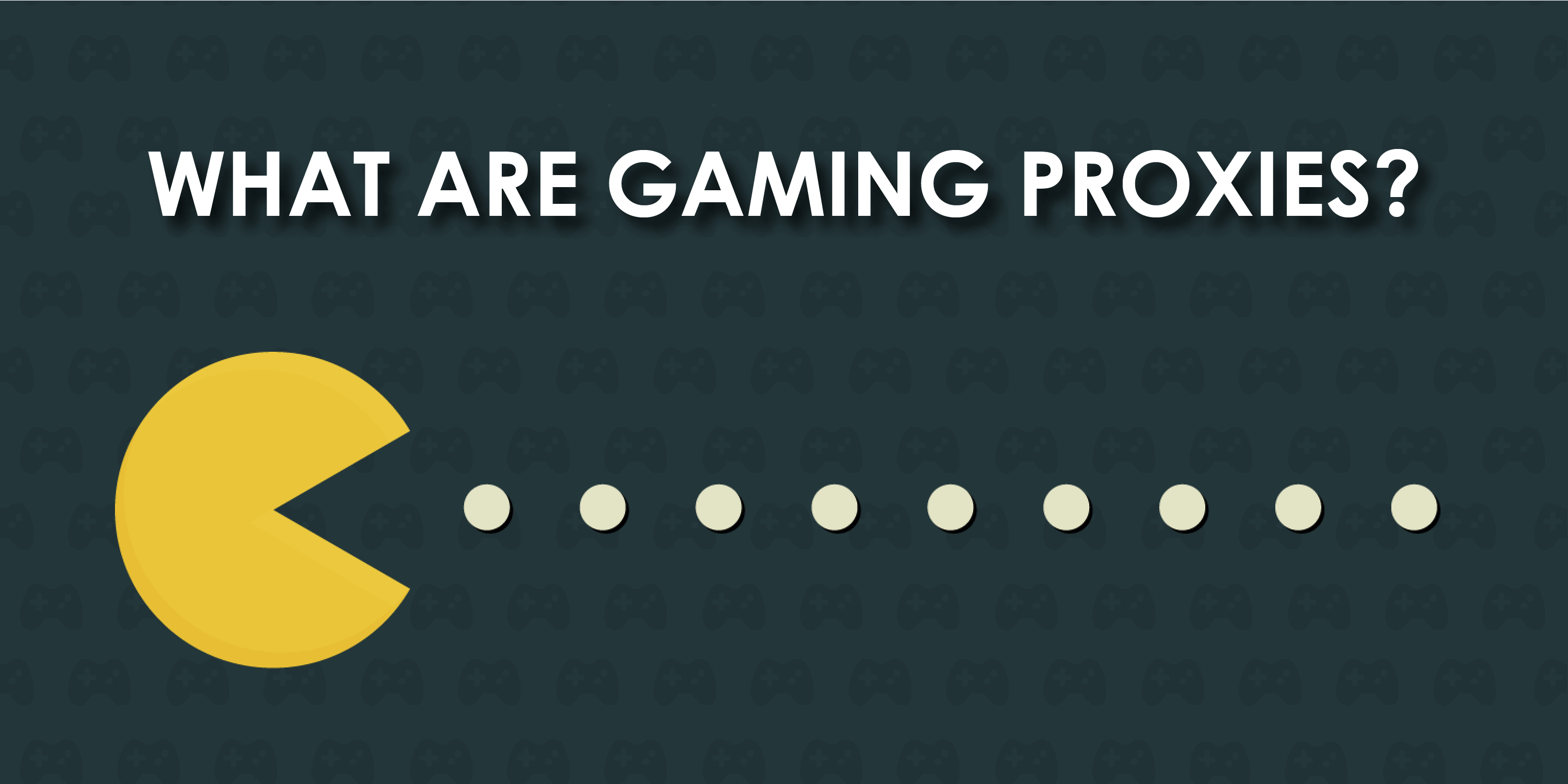 QUICK LINKS:
Passionate gamers need a lot of things to enhance their gaming experience and excel in the gaming world. They require the best laptops or PCs which have the latest processors and contain high-speed RAM of 16-128GB for fast performance, and also the best Graphics cards for a breathtaking visual experience. Not only do they need a high-speed internet connection but also they need the best proxy for gaming because games need fast and smooth connections in order to stop the problem of lagging during multiplayer game-play sessions.
Video games are made for entertainment following the basic thumb rule of engaging bots in the electronic interface. Games are divided into different types such as– action, role-play, sports, strategy, simulations, adventure etc. Latest games employ hi-tech Dolby Digital Surround Sound along with modern WAX effects and best visual effects with the help of powerful Graphics Processing Units (GPUs) and carefully crafted game engine technologies.
Computer-based video games or mobile video games establish virtual environments and actions which are controlled by players. Prior to the online gaming platform, games running on computers or TVs or Xboxes used to be recorded into CPU memory only. Players used to interact through keyboard, mouse, joystick and other sensing devices and used to play against CPU bots. However, recent age of playing games over Local Area Network or on internet against players worldwide, the technological demand has a new list as well. Gaming proxy is one of them.
What are Gaming Proxies?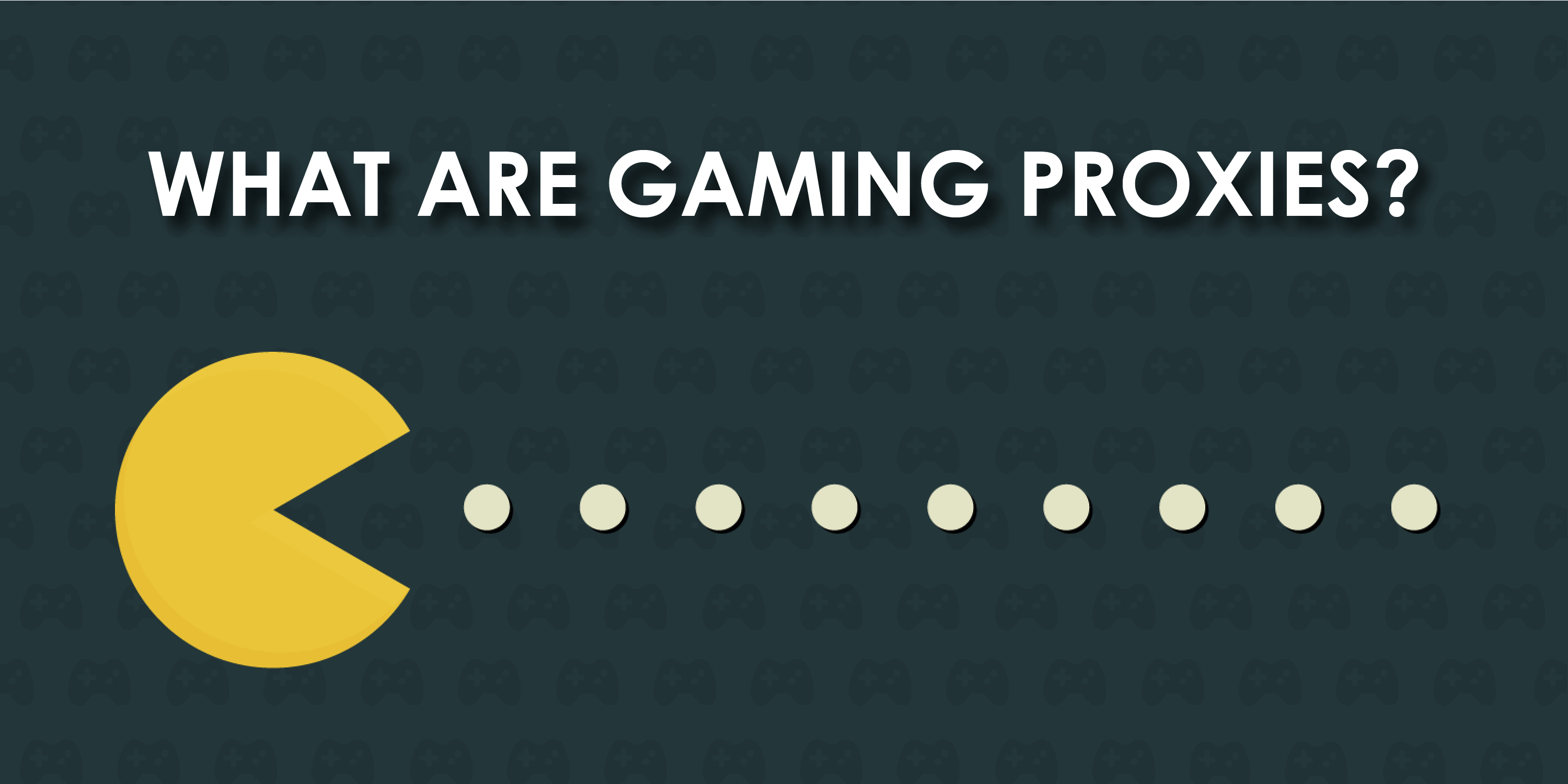 A proxy is anything that represents itself as an iteration of the original product/person while replacing the original. For example, when actors are absent due to illness or any other problem then proxy artists are used to replace them. Similarly, a web proxy server is a server which actually acts as a link between your PC and the network you want to use. Web proxy server is a false server that let an user to access restricted web contents under his domain area. In this same regard, Gaming proxies hide online user's real virtual identity. In short, it helps in the exchange of data while keeping the anonymity of the user intact.
Different web browsers have different steps to configure a web proxy server.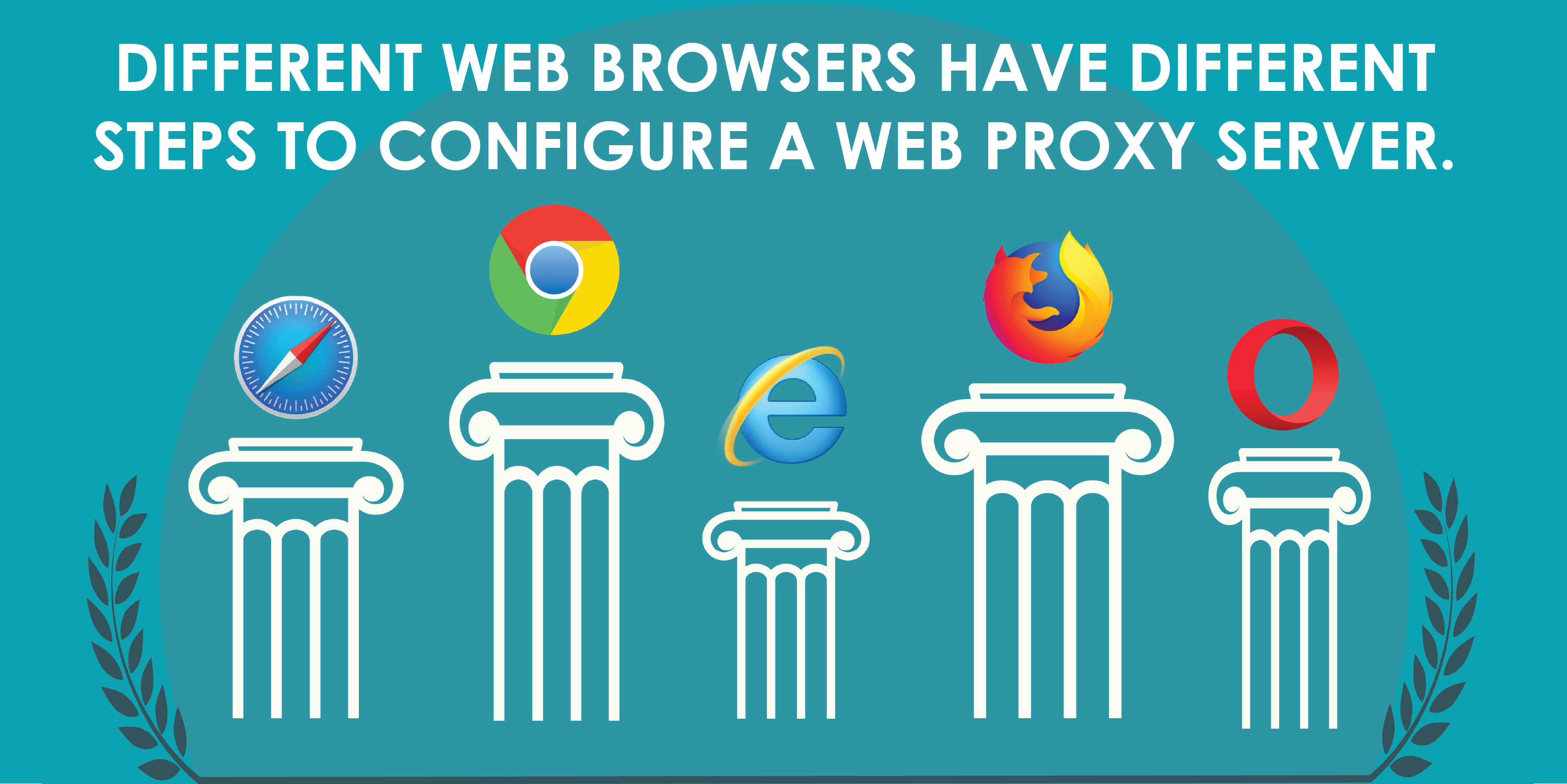 Since different web browsers are based on different coding architectures used by different organisations, it is pretty obvious that the method of using proxies on those browsers vary drastically from one to another. Web Browser proxies are important as they will let an user access gaming websites restricted in their country.
Here are the step-by-step procedures to set up proxies on different web browsers-
Internet Explorer users:- Being the oldest web browser of Windows, Internet Explorer is still the default browser due to its simple interface and easy integration with Windows. Here are the steps to activate gaming proxies on Internet Explorer-
1. In the internet explorer, click on the "Tools" menu.
2. Select the "Internet Options" menu and go to the "Connection" tab.
3. Under the "Connection" tab, select the "LAN settings" menu.
4. Within "LAN settings" menu, click on the "Proxy server option". It enables to use a proxy server for the LAN check box.
5. Type the "IP address" of the "HTTP proxy server" in the "Address box".
6. A "Port box" appears. Enter the port number used by the web proxy server which is "8080" by default.
7. To speed up the network performance select the option "Bypass the proxy server for a local network". It completely restricts the use of web proxy server when connected to any local network address.
8. Select the OK option to save the settings and close the LAN Settings box.
9. Again click on OK option to close the Internet Options dialog box.
10. You are on board with a web proxy server successfully and you can access any blocked site in your search engine.
Microsoft Edge users– if Internet Explorer is the founding father of web browsers then Microsoft Edge is its grandson. This is a streamlined and smooth version of Internet Explorer that is available on the current versions of Windows as a pre-built package. The steps of adding a gaming proxy server on Microsoft Edge is given below-
1. In the Microsoft, Edge Window select the "More" menu.
2. Next, click on "Settings option" from the drop-down menu.
3. Navigate for 'View Advanced Settings' and select the option.
4. You will find 2 options in a new window – Automatic Proxy and Manual Proxy setup options.
5. The proxy network details provided by the company needs to be entered in this page.
Mozilla Firefox users– The first third-party browser on this list, Mozilla has been trying to grab market share out of Chrome's hands for a long time. This browser is well known for the plethora of options and features that are available and the simple, easy-to-use user interface that it offers. To add a gaming proxy server in Firefox just follow these steps-
1. At first, Select Tools Menu in the Firefox web browser and go to the "options menu".
2. There the Advanced Icon will have to be selected.
3. From the advanced icon, select the Network tab and click on "connection tab".
4. From connection, go to Settings option.
5. Under the settings option, choose any one out of these two options; "Manual Proxy Configuration" or "Auto-Detect Proxy setting for this network".
6. In "Auto-Detect Proxy setting for this network" the IP address for the HTTP proxy server will be selected automatically and entered also. But in case of "Manual Proxy Configuration" the IP address for the HTTP proxy server and enter the port details will be entered manually.
7. Click  "Ok" to finish the process and to access the blocked website.
Chrome users– Chrome is widely used as compared to Internet Explorer and Mozila Firefox. It is popular for its unique extensions and the procedure to add a gaming proxy server is also easy-
1. Click on the three-parallel-bar "Options" key on the toolbar.
2. Now select "Settings" from the drop-down menu.
3. Scroll down through the list and click on the "Show advanced settings" option.
4. Now find the "Network settings" area and open the "Change proxy settings" option.
5. On the pop-up window find the "LAN settings" option and open it.
6. Now select the option that says "Use a proxy server for your LAN" after disabling the option that says "Automatically detect settings"
7. Now enter the settings of proxy service provider and click on the "OK" button. This will save the proxy settings on the Chrome web browser.
To be a little more advanced than your peers you need to know a few simple terms you might come across while using proxies.
1. SOCKS – SOCKS is an abbreviation for Socket Secure. It is a protocol on the internet that is required to initiate the connection with the web proxy server. Through the proxy network, the SOCKS protocol exchanges network packets between customers and the main server through a proxy server. SOCKS make the path to forward User Datagram Protocol [UDP] packets and proxies arbitrary IP address of Transmission Control Protocol [TCP] connections. SOCKS5 is a type of SOCKS protocol which is widely used throughout the world since it provides an additional layer of protection. SOCKS5 protocol adds an authentication process while accessing the server, so only authorised clients can access the server and its data.
2. HTTP – to send correct HTTP requests to correct servers the HTTP protocol is very necessary. In the World Wide Web (www), Hypertext Transfer Protocol (HTTP) is the foundation for data communication. HTTP protocol makes the path for unhindered communication between the user and a proxy server and sends exact requests to the required destination. HTTP protocol is analogous to a sorting mechanism which understands the request made by the user and guides the connection towards the website/server requested.
3. P2P – P2P or peer to peer connections are required for fast torrent downloads or other shared contents. The proxy server providers have such facilities too; make sure to opt for them. P2P connections are usually much simpler and easier ways of transferring files and other data between two computers/users.
4. Gaming Clients – Gaming clients are software programs that connect a user to a game server. They provide packets of network information to clients and ensure dedicated network. Most of the customers available online are a mixture of client-server and P2P setup. Now avail the lime proxy by getting <a href="http://loanload.co.uk"style="color:#0694ea; text-decoration: none; !important;">ccj loans direct lender
On purchasing a proxy server for free gaming proxies, a set of detailed instructions are provided on how to configure the proxy server and have a completely encrypted process. It is of utmost importance that to set up the proxy server properly, otherwise, data leak or even undesired access to the system might happen. So, read all the instructions carefully and even contact the customer care of your proxy service provider in case of any confusion.
Why would a gamer want to use gaming proxies?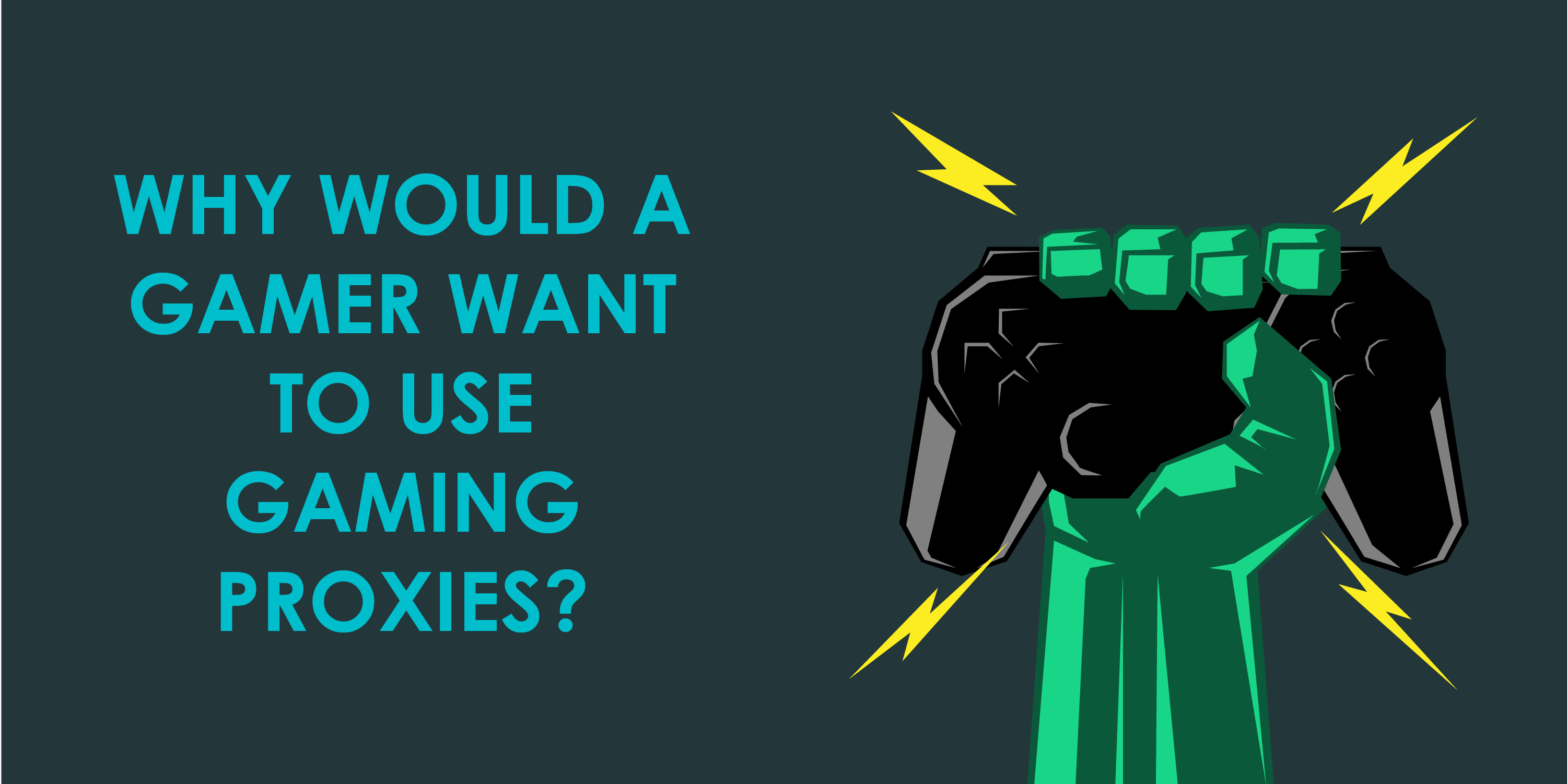 Gaming is just more than entertainment and stress elevator; it is a profession for many. Professional gamers earn their living from it. This is why a smooth and fast connection is a necessity for them. The biggest frustration for any zealous gamer is lagging internet connection while he is playing. While participating in international competitions if the internet lags then the gamer might get disconnected from the server or even in extreme cases, he/she might end up losing the match. So during matches or practice sessions high speed and smooth net connection becomes necessary.
Also, gamers want to change their location to gain expertise on worldwide basis. However, it is not easily doable as IP restrictions come into the picture. An easy way out is gaming proxies.
Though the market is filled with free proxy service providers, it is recommended to use paid gaming proxies to witness better results.
Unpaid proxy servers may have an adverse effect. Because of free proxy servers, the information is not that much guaranteed to be protected against online hackers. On the other hand, paid ones come with high data security assurance. They give access to worldwide locations to play, offer large bandwidth and fast speed internet connection coupled with live support on 24*7 basis. Paid gaming proxy subscriptions start from a low range of $5 to $10.
Different types of proxies
Gaming proxies can be broadly classified into two types. There are many other classifications based on other parameters, but the two main types are:
1. Premium Proxies– Pro gamers ready to spend for high secrecy and complete security go for this type of proxies. These are user-friendly and advanced proxies that successfully hide IP address, and offer impeccable speed up to 1Gbps.
2. Public Proxies– These are unreliable free proxies. A huge number of gamers prefer these. Due to a swarm of users, it is natural to face a speed lag. Plus, the security and anonymity of the users can never be ensured on these free gaming proxies.
The Top advantages of using gaming proxies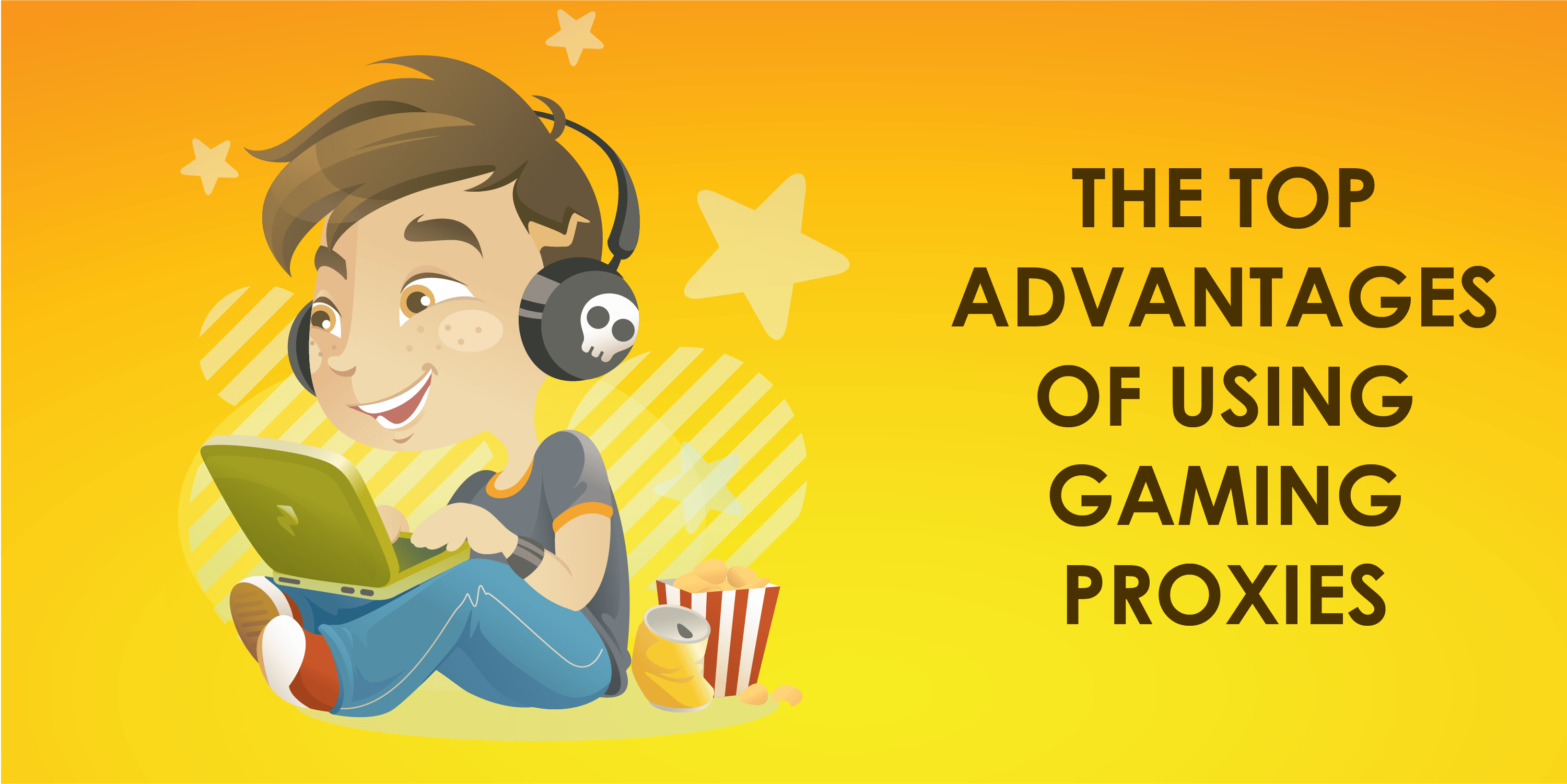 Here are top advantages of using gaming proxies.
1. Data Caching– The cache system of proxy servers is very useful to access any website as the data is stored in the cache system safely. Thus, they become accessible at anytime. In this way, it provides a safe storage space for browsing data and enables them to access at any point of time. Also, the data remain out of reach to outsiders.
2. Peer to Peer sharing– P2P or Peer to Peer sharing is a service that fastens the data sharing rate with peers. It erases the necessity of having a server and act as a mediator between two users.
3. Exchanging data– The use of P2P protocol in a proxy server helps setting up folders on system that can be browsed by users given access to the network. This lets users on a certain network exchange data between themselves without any hassle. Say, a user 'A' wants to take the "saved-game" files of a certain game from another user 'B'; then A just have to copy that file into the shared folder and B can easily copy it onto his computer.
4. Anonymity– With the increasing number of identity thefts on the internet, securing personal information has become an integral part of anyone's internet browsing experience. Since gaming proxies act like gatekeepers between the user and the internet directly, no one can get access to the user's information. Proxies should be used while gaming so that no one can track IP address thereby causing security breach. Hackers can easily track through a user's IP addresses to know his real-life identity like their names, phone number, bank account details etc.
5. Protecting your Location details– Using a proxy server enables the user to select a different country/state as your location. This keeps the actual location hidden from different servers and websites, and even if there is a breach of security, the hacker won't get access to user's location details. There have been many cases where people have pranked others by tracing their IP addresses back to their houses and then sending junk mail or even sending the Police to their houses as a joke. These types of jokes might end up having serious consequences, and in some cases, the location details might actually fall into the wrong hands, and they may try to blackmail against money. Also, some free proxies fail to protect information and that's  why it is always recommended to use
6. Protection from DDoS attacks– DDoS stands for Distributed Denial of Service. It is a brute force attack that is carried out by hackers on different websites/servers to cripple their functionality. During this attack, a huge amount of traffic is passed through a website and that overwhelms the website's servers. This inevitably ends up crashing the website and thus hugely affecting the business of that organisation. DDoS attacks are carried out by using botnets. A botnet is a huge armada of infected computers that act as users during the attack. Attackers infect a huge array of computers by sending malicious software through websites, social media, and emails. These software act in the background without even letting the users know about their existence. To protect from DDoS attacks, one should use a proxy server, as the DDoS would attack the proxy IP since that is how the internet perceives user's existence, and his actual IP would be safe.
7. Access to location-locked websites/services–  By using a proxy one can set his own location as any country or state in the world. This means that any website that a user can access will see that your IP address is originating from that country, so it will give you access to the services that are only available in that country. A very simple example would be Netflix; just a few years ago Netflix was unavailable in India, but by using proxy servers it was pretty easy to access the Netflix website and use their services. Same is valid for the gaming industry. Many games get banned in many countries due to many different reasons. So the only way to play those games online is to use a proxy server and alter your location.
8. Play with your teammates– with the advent of social media and the internet, distance has become just a number and worldwide gamers making friends all over the world. But still, gaming servers are almost always divided into different zones to cater to the people who live in those areas. So, in order to be able to play with outside country friends, one needs to use the location-altering feature of a proxy. This will let the user play on the same server of their friends. This is especially important for professional gamers.
9. Great Server Uptime– Server uptime can be defined as the percentage of total usage time during which the server was up and working flawlessly. Good gaming proxies have reputations to uphold and they boast server uptimes of around 99.992% to 99.998%. That means a user won't have to miss the gaming sessions due to proxy-server problems. When local gaming server might be down one can easily select a different location using proxy server to continue gaming session on a different server.
10. Lag-free and smooth connections– the primary requirement of a gamer is a lag-free internet connection. By using a good proxy server one can easily achieve this. Since most online games are nowadays divided into different servers based on the different counties/regions, the game play might be getting hindered due to the bad performance of the server that one is connected to. In that case, a user can easily select a different gaming server by changing his location. Also, a proxy server acts as a link between user's ISP and the gaming server, and it ensures that there are no flaws in the network during your gaming sessions.
Also Check this Web scraping for business.
Conclusion
As it is very apparent from this article, using a proxy is very important for security and privacy related concerns. Also, proxy servers help in accessing banned websites and services online. Using a well reputed proxy server is of utmost importance as the speed and network stability hugely depends on it. This is why Lime Proxy is one of the most recommended proxy servers. They have an industry leading 99.9% uptime guarantee and they offer a trial period for users to check whether the services fulfil their needs or not. Lime Proxy also comes with different subscription plans based on the usage requirements and the working environment.
Post Quick Links
Jump straight to the section of the post you want to read: