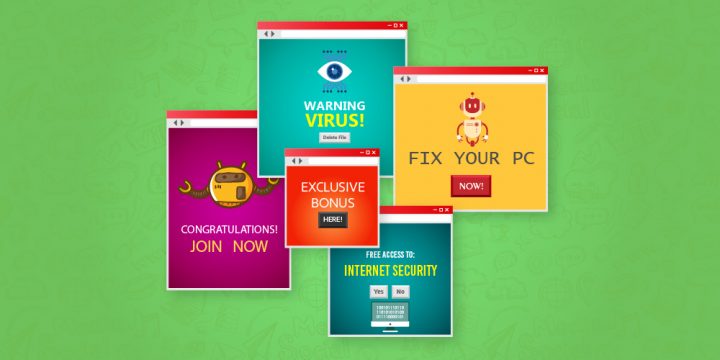 Ad Fraud, the common fear which marketers hold even today as technology continues to evolve.
The online industry is booming. Businesses are looking at their numbers when it comes to advertising online to sell their products.
But for a few businesses, the numbers don't coordinate with their set targets.
The reason?
The high increase in Ad fraud. Juniper research proves, "Advertisers will lose $42 billion of ad spend globally this year to fraudulent activities committed via online, mobile and in-app advertising.''
Because as the market grows deeply into the advertising sector, frauds await to grab every chance that will win them numbers without any hassle.
This is exactly why you need to pay attention to this bug and decode how you can conduct ad fraud detection for your advertising activity.
Lucky for you, we have curated this article to explain the entire process in a crisp and user-friendly manner with just 4 categories.
Let's dive straight in.
WHAT ARE AD FRAUDS?
Ad fraud is a type of scam in which the perpetrator fools advertisers into paying for something worthless to them, such as fake traffic, fake leads or misrepresented and ineffective ad placement.
In simpler terms, some people sit on the other side of the online world waiting to grasp advertisers like you to invest in their services whilst retrieving all the important factors so that they can earn in a hassle-free manner.
The rise of the online world where every business today depends on creating an identity for their brand, ad fraud tends to be a common issue that spread the fear of high risk.
Ad fraud can impact your business highly and if you don't conduct ad fraud detection immediately, your business can go downhill too.. Sometimes without you even knowing, you can be listed as spam for no fault of yours.
Have you had doubts about your conversion rates despite you using a tool which is generating sufficient leads for you?
Having a doubt in itself is a sign that you might be under risk.
Ad frauds are a big threat, and living in 2019, this threat can eat up your business with just one blink. It is time you take the necessary actions to prevent it by first acknowledging the indirect clues it leaves you.
HOW TO SPOT THE DANGERS OF AD FRAUD?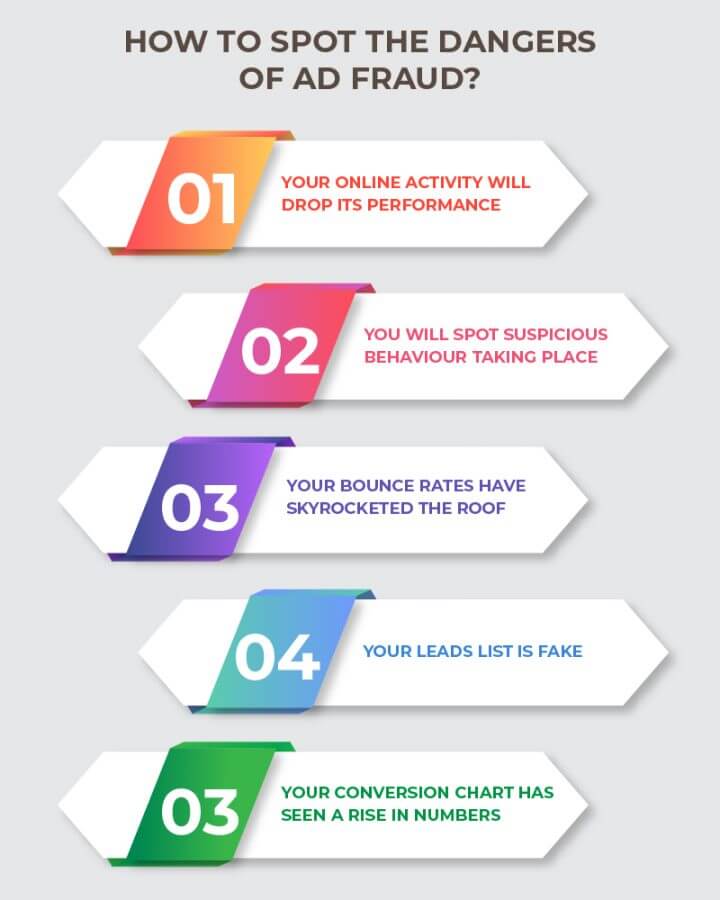 When your brand, especially if it falls in the B2B sector, happens to encounter ad fraud in your online ad activities, the results are visible. It becomes easier to spot the difference since the goals you've kept in mind to achieve and the results achieved never lie on the same path.
Let the list below help you in ad fraud detection by stating the clues:
1. Your online activity will drop its performance - The conversion rates will lessen, the results will not match what you've set in your mind and you will notice a slow path being formed.
As you are aware, the main agenda of ad fraud is pulling away from the traffic and leads from advertisers like you who are depending on their advertising activities to grow their brand so when you don't see your brand achieving the expected results, it's time to have a closer check.
2. You will spot suspicious behaviour taking place- For instance, say you have posted your ad on two of your online channels. You have selected the same target audience on both. While one channel is yielding your benefits, the other channel seems to be a bit lost. Despite targeting the right people for your brand, how is it that you aren't able to capture even one lead? This step requires you to dig deep.
3. Your bounce rates have skyrocketed the roof- Have you ever noticed why at times you get more views but no one clicks on your ad? Ideally, your leads will never click on ads that they find suspicious themselves which means that if this is happening to you, it's time you reverify where the problem is coming from.
4. Your leads list is fake- You need to understand that capturing leads is a difficult task and when you receive one you should first be well aware if it is even a genuine one. There are times where you might receive leads from suspicious sites. You may believe that few of them would be a qualified lead but with ad fraud, even the leads you receive could be fake.
5.Your conversion chart has seen a rise in numbers Doesn't it seem strange how can there not be a rise in conversion rates when you know that your product is what your target audience is looking at? Does it seem a bit weird? Your next action should be identifying whether you are investing with fraudsters.
Let's understand this better with a B2B example:
You run your ads via multiple channels in order to sell and exhibit your product vastly. You invest in ad tools which will help you perform this action easily.
However, for some days you have been noticing that your product views are increasing but despite the good numbers, the lead conversions isn't happening. This is a clear indication of ad fraud happening.
Another example could also be, if your getting multiple leads. You might assume that the tool your using is capturing huge amount of leads and you will continue to invest in that tool. But have you noticed whether those leads are genuine? When you have a doubt that is when you know ad fraud has hit you.
WHY SAFEGUARD YOUR BRAND FROM AD FRAUDS?
As highlighted earlier, ad frauds can impact your business in a way that you may not be aware of.
It is 2019 and as the online industry continues to grow and promise productive results for branding companies, the risk associated with it too falls in simultaneously.
Which is exactly why you need to start prepping all the ingredients required to protect your brand growth from sly ad fraudsters.
Now if you are new to this topic, you may wonder that eliminating ad fraud doesn't sound so difficult.
Ad fraud's in the advertising industry are huge. They create a pretentious self to attract the attention of the advertisers but what they are doing is cutting the business's growth gap.
What loss you can undergo as a business is what you will learn next.
The first pointer would be, you would be spending unnecessarily for something fake. For instance, you may get a handful of leads that have arrived at your website to learn about your product. You may assume that you have hit the right target and will continue to fetch in more money to conduct the exact actions.
Here is where the trap is. Without even identifying you believe that if a particular lead has knocked on your door, it is genuine, but in reality, it could be a hoax.
Secondly, your brand stands in danger of being recognized as spam. Who would click on an ad when they find it unrecognizable and fake? This applies to the ads you post as well. For ad fraudsters replicating a particular ad isn't difficult.
If your brand falls under their trap, you would only be receiving the wrong kind of traffic and leads which will again pull your brand downwards.
Thirdly, businesses are left confused. For instance say you have created a campaign to promote a new product of yours. You would keep a regular check on the statistics to see how it's working. You will decide based on the performance whether you should continue that campaign or not.
For example, say one of your campaigns is getting a lot of views but the lead count is less, you might stop the campaign thinking that it isn't working. But have you wondered whether why is it even happening?
What if the reason why your not getting conversion is because on the other side the ad fraudsters are being mischievous? The doubt will always remain.
Fourthly, there is a high chance for businesses undergoing the 'shutdown phase'. If your conversions aren't happening, your results aren't being achieved and if your leads aren't coming to you, do you still feel that your business stands a chance to run?
It is because of the traffic and retrieving of qualified leads, a brand can withstand its competitors. But if ad fraudsters continue to interfere in your way, your business could stand the risk of being closed very soon.
Lastly, if ad fraud affects your business it becomes tougher to rise again. Who would trust a business that has fallen under the title of spam? Ad fraud may seem like it conducts minor changes but it makes you face a higher consequence.
For instance, you were getting a high number of traffic and so you continued to spend more to continue the flow. But in the end, you realized that the traffic you were getting was from the wrong target audience. What happens here is you fall under the suspicious zone which triggers your leads to not restore their trust in your brand, putting you under a slow and heavy loss.
Ad frauds are tough to beat but if it isn't impossible.
You can easily take care of the ads you conduct by spotting the problem at the earliest and taking the necessary precautions on time.
Let the final category help you through
HOW TO FIND A SOLUTION FOR THE AD FRAUDSTERS ACT?
Posting ads to advertise and attract your audience is essential in today's digitalized world. But as mentioned earlier, many distractions can cause a hindrance in your work. To eliminate these issues being caused, the below information will help you through.
1 . CLICK ADS
Click ads are the most frequently used strategy to grab your audience's attention. The purpose of click ads is to drive traffic. For instance, say you are promoting an ad for your product, it will display as a pop up to your audience. Once they click it they will immediately be directed to your website.
Problem:
Since businesses use this click per ad concept. They are charged for every click. This means that even if a bot or a fraudster repeatedly clicks on the ad, the businesses will assume that they are in luck and continue this process. This can cause a huge risk if it not taken care of.
Solution:
Before you even get your hopes up, verify first if your leads are real or not. You can use the top-selling anti-fraud software that will help you to understand the difference. They can help you detect the type of leads that have clicked saving your money so that you don't spend on the wrong kind of lead conversion path.
2. FAKE TRAFFIC
Fake traffic is another form of ad fraud. What happens here is you are using the pay per view concept. This means that for every ad you post, how many views you receive you will be charged accordingly.
Problem:
This is an issue because what ad fraudsters can do is send you very cheap quality traffic which would come from expired links or computers which are hacked.
Solution:
This can be easily solved if you can identify whether the source is genuine or not. See it in this way, when you realize that you are receiving genuine leads from pay per click, you can go ahead and invest more money to grow. But if you do the opposite, the only person in loss would be you. The fact is that you have to pay for the traffic that comes, you might as well keep a closer check so that you're investing in the right place.
3. PIXEL STUFFING
This is one of the smartest techniques that cannot be avoided because it directly impacts your conversion numbers. This technique refers to placing ads with a pixel number of 1X1. What happens here is that your audience will only be able to view it and not see the entire advertisement that you've displayed.
Problem:
The third-party publishers who conduct this act will be putting a blockage for you. What happens here is that the image will not even be visible. So since you are paying for the impressions you will only be able to get views rather than the tapping of leads which is, in turn, bad for your brand.
Solution:
Always ensure that your ads are the right size and your target audience can see what you want them to view. If you feel that your views are increasing but the conversions are not happening that is a clear sign for you to keep a closer look on your ad placements. Keeping track of your statistics can also help you to witness the difference.
4. SUSPICIOUS SITES
These are the sites that will give you the impression that you are receiving qualified leads. Beware of such sites because they could come from expired domains or hacked accounts. What happens here is you will be under the illusion that you are receiving leads and will continue to invest in the same tool. But you will only have the unwanted leads that are of no use to you.
Problem:
It will look like a regular site and you will assume that it is coming from a verified place. You will not be able to make the difference until you go experience a loss in your brand growth. At that moment it will be difficult for you to eliminate or erase it.
Solution:
Ensure that the sites you receiving from are all verified sources only. Keep a track of the verified list so that in case you spot any new sites you can quickly conduct the necessary actions.
5. GHOST SITES
Don't be fooled by such sites. These sites appear to look real where their content looks quite genuine. But the fact is that the same content has \appeared somewhere else which states that the content being posted copies from some other website.
Problem:
Ghost sites look real because they want brands to use their site to post ads. Once that happens they tend to purchase fake traffic because for the brands they will be charged as per the views. Despite the views been high, conversion rates won't make a difference.
Solution:
Always check ghost sites before you even place your ads. Getting views should also get you good qualified leads. If the latter doesn't happen you need to conduct some strong actions.
Apart from the ad frauds listed above, a piece of additional information will also save you from being considered as spam.
When you promote your ads, ensure that you don't just use one account for it. If you conduct all your promotion activities on one account chances are you can be at risk of being blocked. To avoid that you can use a

such as limeproxies who are verified and trusted by many.
AS WE CONCLUDE...
Ad frauds will continue to be there. It will become tougher when you assume that it can be prevented easily. The online digital world is growing and to remain safe and secure whilst healthily growing your brand requires you to take precautions at the earliest.
Before you invest in your money in any process ensure that the below things are conducted:
All sites should be verified
Ensure that leads are genuine
Keep a closer look at your advertising activities
Take actions before it is too late
What are your views on the above article? What triggered your attention?
We would love to hear from you. Do share this article with your peers as well as let us know your opinions in the comments below.
Post Quick Links
Jump straight to the section of the post you want to read: