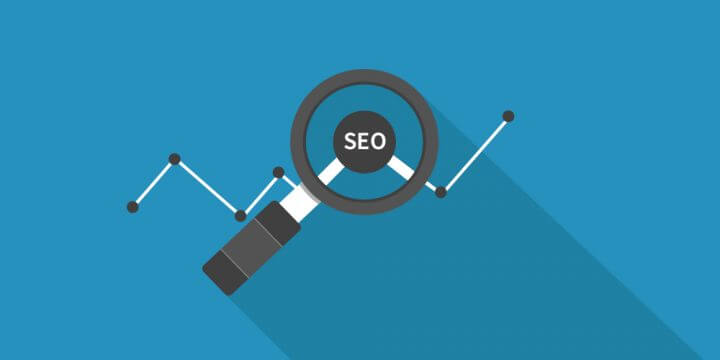 Rank tracking is a powerful SEO metric and selecting the best tool for your business takes a lot of research and time in it. If you can't measure the results, you can't improve on it. Ranking on the first page of SERP for a particular keyword is still a major goal for every digital marketer.
Selecting rank tracking tools is one of the first steps in reaching SEO goals and metrics. Other equally important metrics like conversions and organic search traffic are also being considered alongside keyword ranking. Tracking and monitoring the performance of your website in terms of keyword rank need to be done using tools since doing so manually is very difficult and time-consuming.
Well, just imagine how you would manage to extract keyword ranking data without using any tools. You would need to do it one by one, and by the time you have all the data, there's a high probability that they aren't relevant anymore.Even Google, arguably the largest search engine to date, has developed APIs (Application Programming Interfaces) that enable SEO experts to get ranking data. However, Google has placed a limit on the number of API requests per day, pushing digital marketers to use other rank tracking tools.
These rank tracking tools basically scrape the ranking results from the search result pages of Google.
RANK TRACKING TOOLS - THINGS TO LOOKOUT FOR
IP blocking: If Google detects the same scraping pattern in a short amount of time or at a fixed time interval,  it could result to IP blocking
CAPTCHA: Using these tools may prompt Google to return a CAPTCHA page to make sure that the result is not from a bot.
For these reasons, SEO experts and marketing agencies are better off if they use proxy services. With a proxy service, they can conduct market research and competitor analysis; they can use automation tools for rank tracking tools safely.
Big data has become tremendously important for every company, be it a big sized multinational corporation or a small start-up. Know the benefits of Big data#limeproxies #bigdata #webscraping #proxy #proxies pic.twitter.com/LOkhEEaD4r

— limeproxies (@limeproxies) July 5, 2019
TYPES OF RANK TRACKING TOOLS
Despite challenges in rank tracking, many SEO experts still see the need for it and they employ the help of rank tracking tools. These tools come in three different varieties:
DESKTOP APPLICATION
This type of rank tracking tools are independent programs that run on your local computer. Like any computer program, you need to install them on your computer in order for them to work. The best thing about tracking tools that run on desktops is that they can track a large number of keywords without getting blocked by Google or any search engine. This is because they are programmed to copy human behavior as they:
Copy the web browser user agent.
Add time interval in between queries, so there are pauses in between.
Download all page assets including the images, not only the ranking results.
The desktop application type of rank tracking tools is best paired with a proxy service so you can mask your IP addresses and make the queries appear to come from different users. For large digital marketing agencies with several clients, however, the challenge is how to handle queries in a timely manner since the pace of the program can't be accelerated because doing so will not look human anymore. 
Examples of desktop application rank tracking tools are:
Internet Business Promoter
WebCEO
Advanced Web Ranking 
These tools are most commonly used by small to medium sized enterprises and they are also useful in doing keyword research, analyzing backlinks, and other SEO activities. 
BROWSER EXTENSIONS
Browser extensions are blocks of software module that enables users to customize their browsers. Most browser extensions are used to modify the web browser's user interface, to manage cookies, and to block advertisements, but there are also several extensions that help users perform certain actions better.
An example of a browser plugin that helps you track your keyword ranking is the browser addon called Rank Checker Extension. It is available on Firefox and Google Chrome.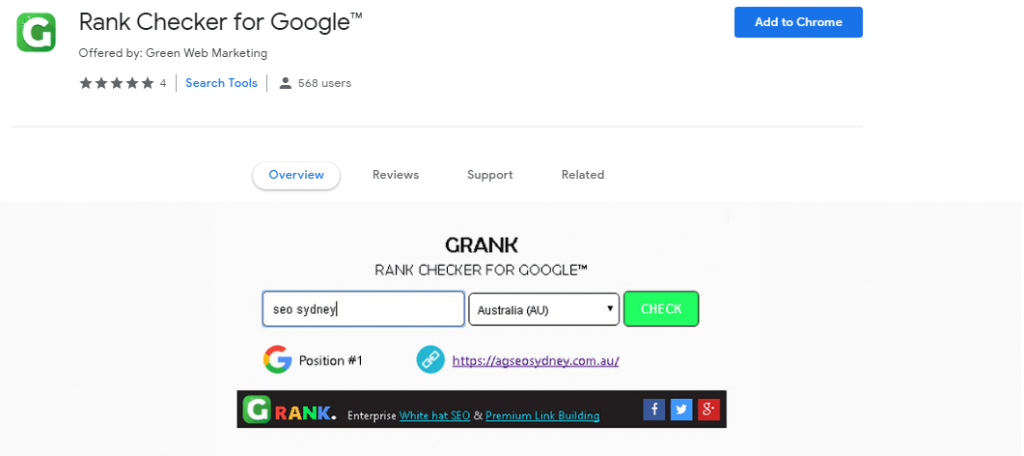 When you use this tool, Google will see the user agent as belonging to Firefox, so the search engine does not automatically block it. 
Still, you run the risk of getting blocked by Google if you have too many queries from a single IP address since it will no longer be a normal human behavior. For instance, when a person sends 10 to 15 requests in less than a minute, Google or other websites will require a CAPTCHA to be filled out. Red flags will even be more common when searches are automated and the tool sends hundreds of requests in a matter of seconds. 
While Google doesn't have a specific limit on the number of queries per IP address, the speed at which these requests are sent matters. 
People usually have two to three seconds of intervals in between search requests, while most tools submit multiple queries without any pause. Using a proxy server might help, although it's best if you keep the number of queries to 100 or less for every IP address so search engines won't flag you. 
WEB-BASED SAAS APPLICATIONS
Most of the desktop application rank tracking tools also offer web-based SaaS (Software as a Service) versions of the same tool. The difference is that you don't have to install these web-based applications as they run on a server that you subscribe to. 
You can, therefore, use these tools on different computers, and you don't need rotating IP addresses since the application will do it for you. Web-based rank tracking tools are therefore low maintenance although they tend to cost more than the other two types. Unlike desktop applications and the browser plugin, you won't get query results immediately if you use web-based rank tracking tools since tracking requests are queued and follow a schedule. 
Most digital marketing agencies that have multiple clients invest in web-based rank trackers like Advanced Web Ranking, SERPs, and Authority Labs, as they can handle huge volumes of queries. 
HOW TO SELECT THE RIGHT RANK TRACKING TOOL
As with any automation tools, rank tracking tools are not created equal. Whether it's a desktop application, web browser plugin, or a SaaS application, you need to have a set of criteria that will guide you in selecting the right rank tracking tool for your business. 
Below are some of the features or characteristics you should look for in a tool that tracks keyword ranking:
COMPARE THE NUMBER OF KEYWORDS AND THE PRICE 
Most tools are priced depending on the volume of keywords you are expecting to track. The monthly price per keyword - $0.04 to $0.11. Therefore, you have to know how many keywords you are going to monitor and allow room for growth also. For example, if you are a digital marketing agency and currently have 300 keywords to track, expect to grow in the future and ask for a price quotation for 600 or even 1,000 keywords. This way, you won't be caught unaware of increasing prices as the number of keywords increase. 
The volume of keywords ultimately depends on the number of web pages, and according to Search Engine Journal, targeting one keyword per page without variation is a bad SEO tactic. With this in mind, we're looking at five to 10 keywords per page. 
You can test this out by searching for a keyword you want to target. Let's put the key phrase "how to select a rank tracking tool" as an example. Google this phrase and scroll down towards the bottom where you will see the related searches as in the picture below: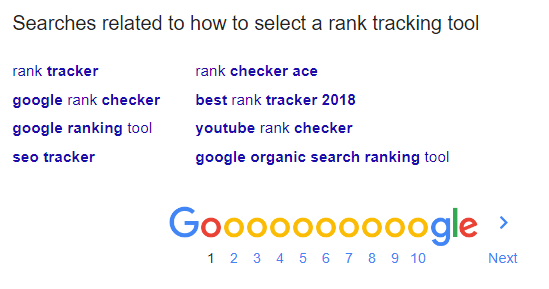 As you can see, one keyword can have several related search terms that you also need to track. You may find the need to track hundreds of keywords, but the most important thing is that all these keywords are related and you should avoid keyword stuffing in your content.
Keep in mind also that long-tail keywords are also necessary. These keywords are composed of three to four words and they are very specific to the user's needs. Long-tail keywords get less traffic than common keywords, but they are very effective.
FIND OUT THE TOOL'S ACCURACY IN DETERMINING KEYWORD RANK
Search results are highly personalized and localized and it's important for your rank tracker to take all these into account. Go for a tool that has 100% accuracy since the results of your keyword monitoring will be the basis of major decisions regarding your SEO strategy. You need to know exactly how your SEO strategy is doing and you can only obtain this knowledge if the tracker gives correct and precise results. 
SELECT A RANK TRACKING TOOL THAT ALSO TRACKS MOBILE RANKING
Most people do their searches using their mobile devices. As a matter of fact, more than half of searches all over the world are on mobile, and this is projected to increase in the coming years.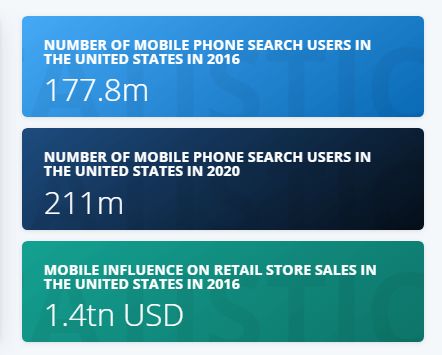 Image: Screenshot taken from Statista.com on August 1, 2019
The above statistic only proves that mobile tracking is an important feature you should consider when selecting a rank tracking tool. 
_Handpicked Content : _STEPS TO CREATE VOICE SEARCH OPTIMIZATION STRATEGY
Optimizing your website for mobile is, therefore, an essential element to your success, and you should track your SEO ranking on mobile too. Make sure that the rank tracker you are using has this important feature as not all trackers have this. 
THE RANK TRACKING TOOL MUST TRACK BEYOND GOOGLE
Google is the largest search engine in the world. It processes 40,000 search queries per second or 3.5 billion searches per day. However, you have to take note that it is not the only search engine there is. One-third of searches per day are done outside Google, and it's important to track your keyword performance on these search engines too. The tool you use should, therefore, be able to track other search engines like Bing, Yandex, Yahoo, Baidu, and a lot more.
THE RANK TRACKER MUST VALUE GEO-BASED RANK TRACKING 
Search results totally depend on the user's location. For example, the results for when someone from California searches for "orthodontist" are very different from the results when another person from Melbourne searches for the same keyword. The rank tracker you choose should, therefore, have the ability to put the geographical location into account when monitoring keyword performance. 
These are the necessary features that an SEO rank tracker should have so you can effectively monitor your progress, and make major decisions based on the results. 
THE BOTTOM LINE
Selecting the right rank tracking tool for your company may be difficult and even confusing as there are a lot of options. First, there's the type of rank tracking tool that you need, whether a desktop application, browser extension, or web-based application. Once you figure out which type is the best fit, you also need to decide which brand or provider of rank tracking tool will give you what you need without breaking the bank. 
Check this SEO Checklist 2019 and Proxies for SEO.
The five tips mentioned above will hopefully make it easier for you to select a tool to track your keyword rank. Regardless of what rank tracking tool you select, always keep in mind that it will be a futile effort if you use the tool without a proxy service like Limeproxies. You need to find a way to mask your local IP address and protect yourself from getting blocked by Google and other search engines.
Related Blogs
Top 15 Data Analysis Tools In 2018 For Non-Technical People
9 marketing tools that don't cost you a dime
How marketing Teams Can Keep Pace with Customer Intelligence Tools?
TOP 10 WEB DESIGN TOOLS FOR WEB DESIGNERS AND DEVELOPERS
Post Quick Links
Jump straight to the section of the post you want to read: